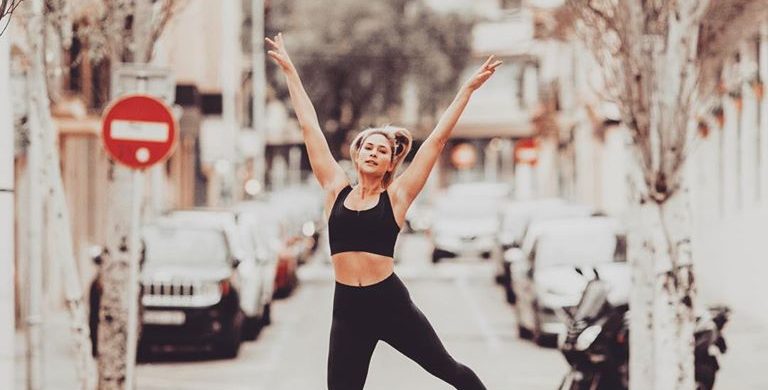 HOT OFF THE PRESS!
Wife, mother, chef, crew agent, school principal and successful entrepreneur, Justine Murphy wears many hats, but her journey has not been an easy one. Her cookbook, being released on 16th April, not only has 160 delicious, fully refined sugar-free ideas for healthy breakfasts, sharing platters, soups, curries, salads, main dishes and plant-based desserts, but it also draws on her experiences of overcoming extreme adversity in her youth, working as a chef on super yachts and eventually founding mymuybueno – a successful international luxury food and lifestyle company. Justine imparts her contagious energy into the pages, giving it real heart and making it much more than just a cookbook. This is a book to inspire, to share, to reflect –with good, healthy, refined-sugar-free food at the heart of it. Pre-order now on Amazon UK to get one of the very first copies hot off the press!
MEET YOU AT THE BARRE
We're always looking for ways to keep workouts interesting which is why we've been heading to The Studio Lifestyle, a boutique barre and yoga studio situated in vibrant and energetic Santa Catalina. Zora Sandenbergh founded the studio with the vision of creating a space where movement not only strengthens our physical bodies but also brings us joy and a way of expressing our individuality. The Studio Lifestyle offers boutique barre classes, yoga and high intensity interval training (HIIT). We personally love the barre class which is a ballet-based workout, combined with Pilates and yoga. This energetic workout uses small isometric movements, body weight exercises and resistance training to tone, tighten and strengthen your body, and is choreographed to music designed to keep you smiling as well as burning fat and creating long lean muscle. Don't worry if you're not a natural dancer – this is a workout that's fun for everyone!
EMBRACING AGEING
Menopause can be a minefield of changes happening within your body and are often extremely difficult to navigate. Menopause Woman is a website dedicated to raising awareness of women's health during the transitions of menopause; perimenopause, menopause and postmenopause. The founder of MenopauseWoman.com is Jill D Davey. Jill is a women's health advocate and author of the book, The Menopause Cure: Hormonal Health. Using Jill's wealth of knowledge find out how it is possible to age without having to fear physical and mental decline, introducing you to restorative medicine and bioidentical hormones so everyone can experience a healthy, vibrant, and powerful life, along with a fulfilling sex life, in our latter years.
NOURISH AND ENJOY! MAGAZINE
The Nourish team was delighted to be mentioned and recommended in the latest edition of the Enjoy! Transavia France magazine alongside some of our favourite wellbeing businesses on the island led by women, such as the gorgeous SUNVIBES, retreat space Spoon Full O'Moon, and mymuybueno. Thanks Transavia!
PRE-SEASON CLEANSING
Winter can leave us feeling a bit sluggish, congested and heavy. Now that it's Spring we're heading to Raaul at Dynamic Detox to help us cleanse from the inside out and feel great heading into warmer weather. Raaul has kindly offered our Nourish Community a special March discount of 10% on any of the Dynamic Detox treatments. This includes colonics, full detox programmes, and Lorisan blood tests. This is the perfect time of year to clean out your system and prepare for summer! Contact Raaul at raaul@cleanbreaks.net and quote 'Nourish' to find out more.
SEASONAL EATS
There are many great reasons to eat seasonally, and each season offers its own unique and abundant harvest.
March is the season for wild asparagus (or 'Trigueros' as the Spanish call them). Find this lovely thin stemmed, intensely flavoured asparagus variety roadside all over the island at this time of year. Delicious simply boiled or steamed, you can also try grilling or roasting them for a nuttier flavour. Douse in olive oil, salt and pepper, and a squeeze of lemon – delicious!
Wishing you a magical March,
Love the Nourish Team.x