Fermented foods, including kombucha and cultured veggies have been trending on the wellbeing scene for a while now, and for good reason. They do wonders for your gut bacteria and are a powerful addition to your diet for overall health. The concept of fermenting foods is not a new one, however. This process has been around for thousands of years across a variety of cultures as a preserving mechanism and a health booster. Think Korean kimchi, Japanese miso, and European sauerkraut.
What's all the fermented fuss about?
It all comes down to the high levels of natural probiotics they contain. Fermented foods are rich in probiotic bacteria so by consuming fermented foods you are adding beneficial bacteria and enzymes to your overall intestinal flora, increasing the health of your gut microbiome and digestive system and enhancing the immune system. Eating fermented foods can also be a great way to help beat bloating.
In addition, fermented foods offer a hit of nutrients and vitamins that few other foods can match, including vitamin K, A, C and many of the needed B vitamins. They also make the nutrients far more bioavailable to us. Bioavailability is the proportion of the nutrient that is digested, absorbed and metabolized through normal pathways in the body.
'Totally Gutted'
Four months ago, Totally Gutted opened its doors as Mallorca's first and only shop specialising in handcrafted fermented foods and beverages. The colourful Santa Catalina store is the brainchild and passion project of bubbly Florida native Libby McCann. With a background studying nutritional sciences, raw veganism, and applying this knowledge to her years working as a chef on a yacht, she knew she wanted to pursue the path of holistic health as she transitioned to a land-based career.
Libby's passion and enthusiasm for her products and her vision is certainly evident as she describes, "I wanted to create a space where people could find foods, real living foods, that help them heal and care for their bodies. I wanted to help people consume more consciously, but not just through what they ate. I wanted to focus on reducing packaging waste, which I believe is a major global issue." 
At Totally Gutted all produce is sourced locally and they do their best to use only certified organic wherever possible. The packaging is also planet friendly, using glass hermetically sealable containers which are re-usable and recyclable. These containers can be brought back to the shop and swapped out for another, or refilled.
Do you want to ferment at home?
Libby is also your go-to person if you fancy yourself a bit of a fermenting enthusiast or would like to give it a try. Get all the gear at Totally Gutted to ferment up a storm from your own kitchen, and Libby will happily guide you down the right track and answer your questions so that your fermented foods turn out a success.
Booch, sauerkraut, cheeses and more
While Libby is always working on new recipes for fermented goodies, there is a core group of tried and tested products available at Totally Gutted.
Kombucha – Often referred to as 'booch', kombucha is a fermented tea. The traditional method of making kombucha involves a natural fermentation of sweet tea, wild healthy bacteria and yeasts. Th result is a tasty drink that has sweet and sour flavours.
Kimchi – This spicy Korean dish typically uses cabbage as the main ingredient, with flavourful additions such as ginger, garlic, carrot, and onion. Totally Gutted stocks both original and vegan versions.
Sauerkraut – Sauerkraut is very nutritious fermented cabbage dish with a distinctive sour flavour. The probiotics in sauerkraut not only promote healthy gut flora but also act alongside Vitamin C, and iron to contribute to a stronger immune system.
Organic Coconut Yoghurt – This raw, vegan yoghurt packs some serious probiotics to help restore and balance your gut microbiota. Totally Gutted uses organic young Thai coconut flesh to create a deliciously creamy dairy alternative.
Raw Fermented Organic Cheese – Libby is continually trying out new cheese flavours and creates a variety of organic, raw, nut-based cheeses that anyone can enjoy. Our personal favourite is the vegan truffle cheese with white truffle oil!
Milk Kefir – Milk kefir can be enjoyed as a drink, as a yogurt alternative, as an ingredient in cold soups, or as a substitute for buttermilk when baking.
Water Kefir – A traditional fermented drink made with water and a symbiotic culture of bacteria and yeasts, water kefir can be an alternative to milk based probiotic drinks or tea-cultured products such as kombucha.
Keep an eye out for more exciting gut lovin' creations from Libby, such as a seasonal summer cold brew coffee, infused with nitrogen. When the cold brew coffee is charged with nitrogen it gives it a rich, creamy head, similar to nitro draft beer like Guinness, and is great for vegans who are after a creamy texture from their coffee but without the milk.
*During lockdown Totally Gutted is accepting orders and assigning collection dates and times for customers wanting to help maintain a strong immune system with probiotic-rich foods and beverages. On offer: Kimchi (vegan and traditional), Sauerkraut (white with mustard seed and red with beetroot, ginger, and green apple), and Kombucha (lavender or strawberry-mint)*
TOTALLY GUTTED
Carrer de Despuig, 52,
Santa Catalina
Palma 07013
Telephone: +34 871 04 26 53
Email: libby@totallygutted.es
Whatsapp +34 634 362 405
Opening hours:
Wednesday 11 – 18:00
Thursday 11  – 18:00
Friday 11 – 18:00
Saturday 10 – 15:00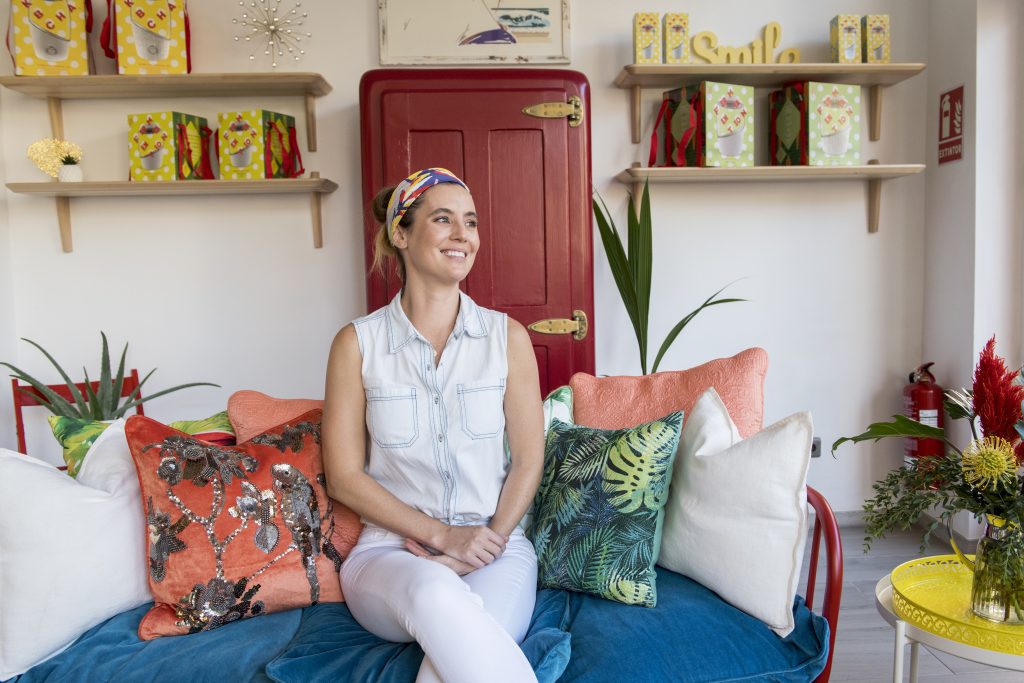 Photo by Pär Olsson