Driving up the hillside towards the Body Mind & Soul Bootcamp's Costa den Blanes venue, it was clear the day was going to involve some impressive views at the very least. Sure enough, the entranceway to the secret villa location revealed a breath-taking vista over Puerto Portals and beyond. Heading outside I found myself on a terrace dappled in early morning sunshine, complete with an infinity pool and steaming jacuzzi. All my senses signalled that I was on a luxury holiday retreat, but alas, my eyes catch a glimpse of the carefully laid out yoga mats and accompanying sweat towels, and I'm snapped back into reality. Bootcamp!
Today I have decided to give myself a gift of self-care. The Body, Mind & Soul Bootcamp is the second event spearheaded by Fit Club Mallorca Experiences, and the energy and enthusiasm from the professionals they've gathered together this time round is palpable. We have personal trainer Jordi Rosselló from Fit Club Mallorca to put us through our paces with a workout, Anne-Christin Weigelt from The Beauty of Now leading us in an Embodied Flow Movement session, and lastly a workshop from The Mallorca Life Coach, Sylvia Ennis. Fit Club founder David Gomez is also on hand to motivate us and above all, make sure we're having a good time!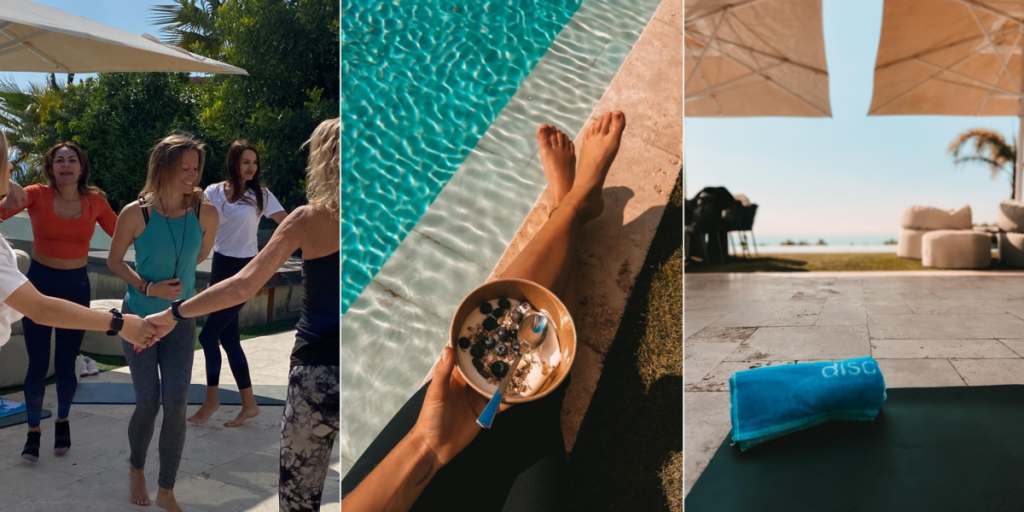 Time to break a sweat
Before we get too comfy on the sunloungers, Jordi rouses us into motion with a Full Body HIIT session. Initially my senses are startled by the sudden movement on a Saturday morning, but as we progress, I get into the groove (and the jaw dropping view helps!). Jordi makes sure to offer plenty of modifications for our varying abilities and before we know it, an hour is up, and a tray of tasty protein smoothies appears. We head poolside where an inviting setup of brightly hued detox juices, cereals, yoghurts and fruits awaits. Downtime is a key feature of the day – the team clearly recognises value in relaxing, digesting and connecting with each other.
Embodied flow movement
Part two of the bootcamp is led by Anne-Christin – time to calm the nervous system with her Embodied Flow Movement session. She guides us through a process of harnessing emotion, sitting with it, and releasing it through movement. If you're anything like me, the thought of dancing freely in the sober light of day in front of total strangers features high on the terror scale. Mercifully, Anne-Christin encourages us to keep our eyes closed and do whatever feels natural and safe – even if that's lying prone on the ground. What started as a hesitant display of bodies moving timidly, slowly evolves, and by the end of the session it resembles more of an ecstatic dance event. We finished off with a 'letting-go' ritual which brought up a lot of emotion for many, a testament to the ease Anne-Christin created within the group.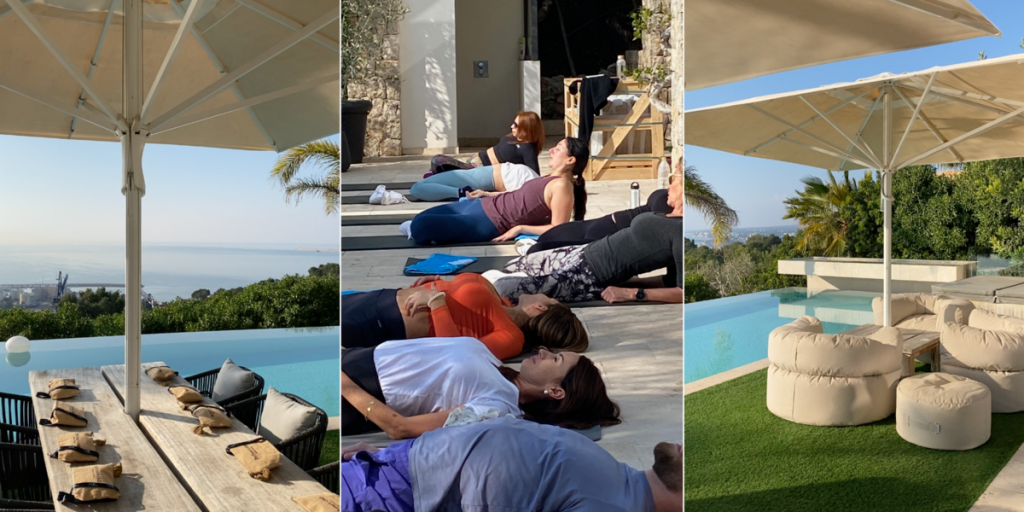 Time out to nourish and unwind
Lunch was a nutritious yet decadent affair, thanks to a spread of hearty salads put on by Luma café. After fronting back for seconds we were free to lounge. For some that looked like a cold-plunge dip in the pool or a soak in the jacuzzi. For me, it was straight over to Katharine Tacon, otherwise known as the Angel of Wellness, who was all set-up to give us mini massages. Absolute bliss.
Awakening our dreams
With everyone fed and happy we began the final part of the day – a Life Mastery workshop with Sylvia Ennis. Sylvia is one of those people who just radiates warmth and confidence, and whatever she had to say I was all ears. Over the next hour she encourages us to reframe our thinking, refocus our intentions and see what's possible in our future if we believe in ourselves. Her kind and motivating words strike a cord, and as the session rounds off I feel awash with motivation and a sense of possibility. Definitely not a typical sensation for a Saturday afternoon!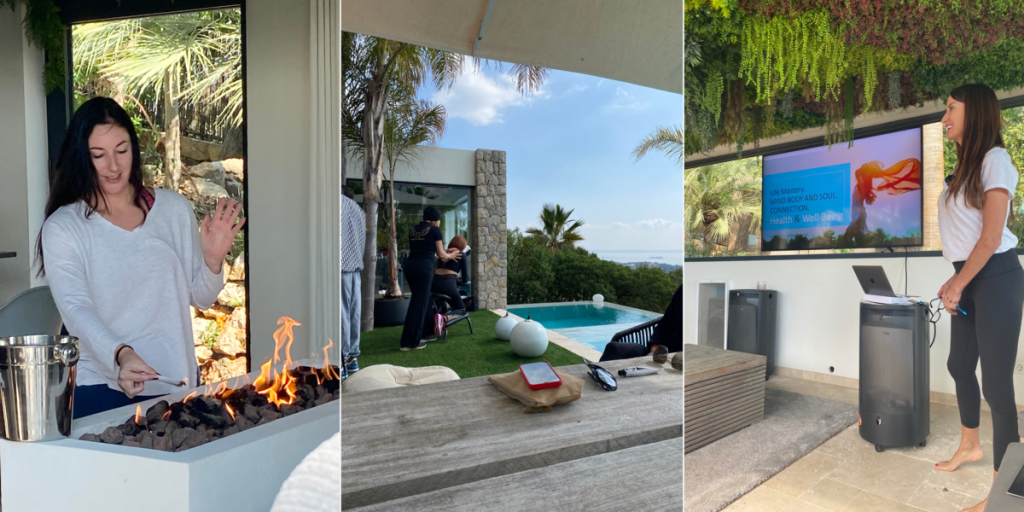 Back to reality
As the day comes to a close there are warm hugs goodbye as we all head back into everyday life armed with a lovely goodie bag of wellness treats, big smiles, and a sense of inspiration and accomplishment. If you're after a day-retreat that offers movement, wisdom and loads of fun combined with a good dose of luxury, then I highly recommend you sign up for the next Body, Mind & Soul event.
You can also connect with each of these wellness professionals individually if their particular practices and skillsets resonate with you. They have built fantastic programmes around improving your health and happiness!
To connect and keep up-to-date with future events follow:
Fit Club Mallorca – @fitclubmallorca_experiences @fitclubmallorca
Jordi Rosello Knabe, PT – @jordirosselloknabe
Anne-Christin Weigelt, The Beauty of Now – @the.beauty.of.now
Sylvia Ennis, The Mallorca Life Coach – @mallorca_life_coach
Katharine Tacon, Angel of Wellness – @angel.of.wellness