Embarking on a fitness journey is a daunting thing. For many of us, the idea of grinding out an extreme intensity workout while a buff trainer screams cliched slogans at us is enough to warrant crawling into bed with a packet of choccy biscuits. The problem is that we've been programmed to think this is the best way to get results. Celebrity Personal Trainers like Jillian Michaels materialised through our television screens screaming "Unless you puke, faint, or die, keep going!"– after all, pain is just weakness leaving the body, right?
Juju Fluhrer and Rob Winterhalter are personal trainers and owners of the Pink Rhino functional fitness studio in Son Ferrer, and they have a different opinion. With their infectious energy and toned physiques, I'm all ears to hear their approach to working out.
A Cautionary Tale
Both Juju and Rob have been into sport and fitness since childhood, turning their passion into careers by obtaining personal training and nutrition certifications and taking on clients.  The muscular couple aren't strangers to high-intensity regimes, both ex CrossFit trainers who actually met at one of the gruelling fitness competitions in Berlin. "When I first joined CrossFit, I thought I'd found my everything – my community, a way I loved to train, friends" describes Juju. "And I had a lot of initial physical results too." But it was short-lived. "After 6-months I started to get injuries," she recounts. "My journey with CrossFit was up and down for the next 4-years, and then I suffered massive burnout. One day I walked into the CrossFit box and couldn't bring myself to face the workout."
Rob tells a similar story. In 2018 he was full-time CrossFit training, coaching and competing in CrossFit events for fun. "Like Juju, I had become completely burnt out as well" he explains. "After my third injury, I decided it wasn't ok anymore."
From Burn Out to Functional Fitness
Juju and Rob decided to walk away from the CrossFit box and try a new training style created by Marcus Filly, the founder of Functional Bodybuilding. Filly developed the methodology around his personal need to train more for longevity and sustainability after also suffering massive burnout when competing in the 2016 CrossFit games. He explored all the different modalities involved in CrossFit and addressed the flaws that can lead to burnout and injury, such as the constant high intensity, and his training style evolved from there.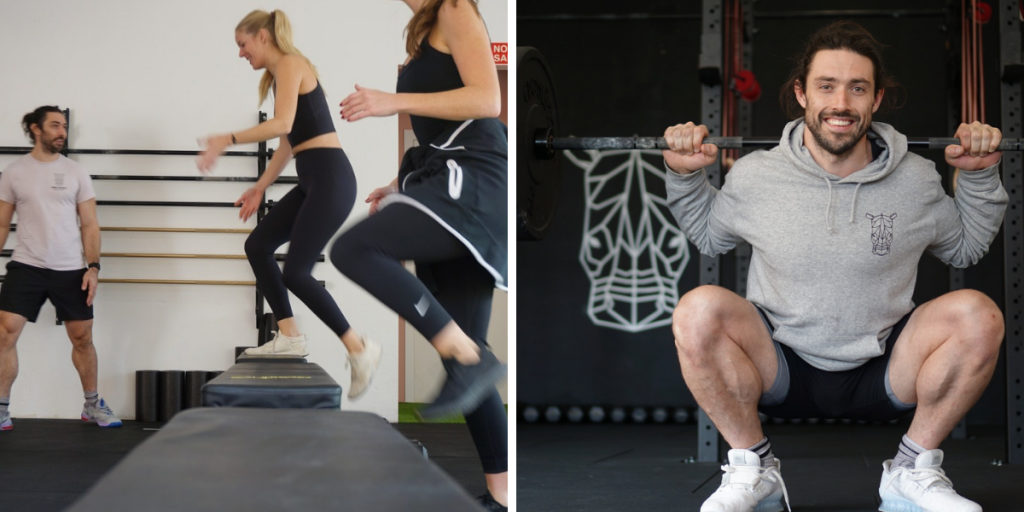 A Progressive Approach to Training
Now, at Pink Rhino, Juju and Rob offer classes structured around the principles of Marcus Filly's FBB training – progressive plans in 6-week blocks with functional movements. It doesn't matter your fitness level, you will progress at your pace and there will always be options and modified versions of the exercises. Small classes mean you get focused and individual attention.
The Classes
The general structure of a class or personal training session at Pink Rhino is firstly a functional warmup involving preparatory movements for the workout. Then strength is the core of the workout for 20-30 minutes, usually followed by a mixed modal metabolic conditioning component, and stretching. Juju and Rob emphasise that the most crucial component, however, is that you're having fun!
"When you crush yourself, you can't train the next day. The key to results is to be consistent" says Juju. "Training sustainably means you can walk away from a session feeling good. Yes, your legs might be a bit sore the next day, but you can do it again, and again, and again. This repetition is the key to results."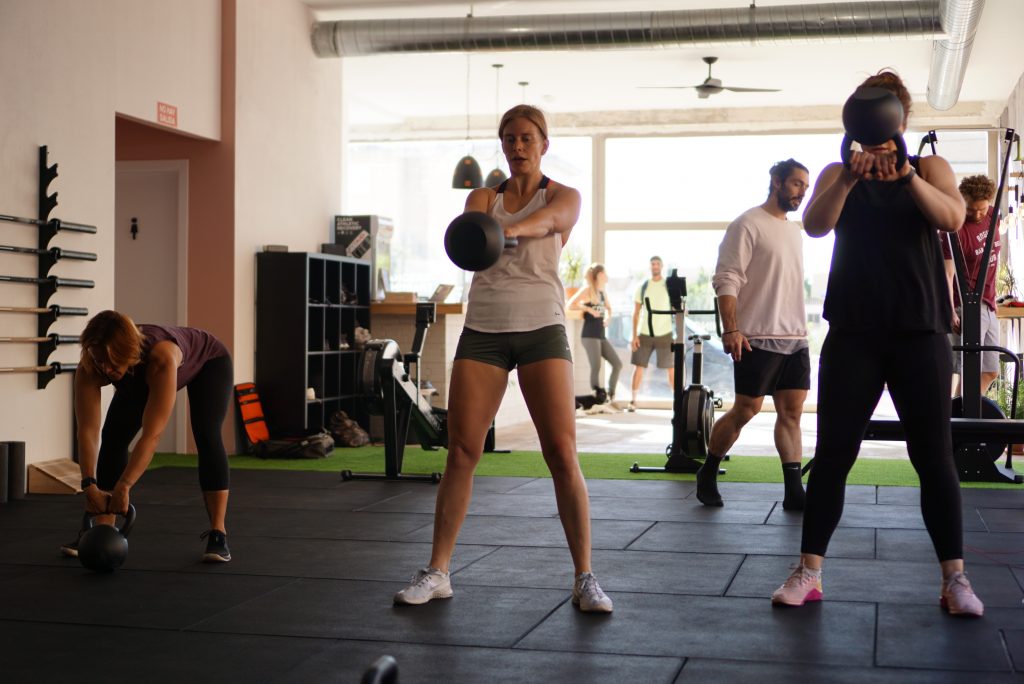 The Environment (featuring Mistral coffee and smoothies!)
Pink Rhino is one good-looking gym and it's clear a lot of thought has gone into the details. The studio is super inviting with pink, light wood, and colourful bean bags contrasting the bold black mats and equipment.
Pink Rhino is a sanctuary for its members, with a café style set up for a pre-workout Mistral coffee, and a post-training protein smoothie, as well as leaners with seating where you can plug in your devices, use the wifi, and WFG (work from gym!). We can vouch that Juju makes a mean café con leche – Australians know their coffee after all!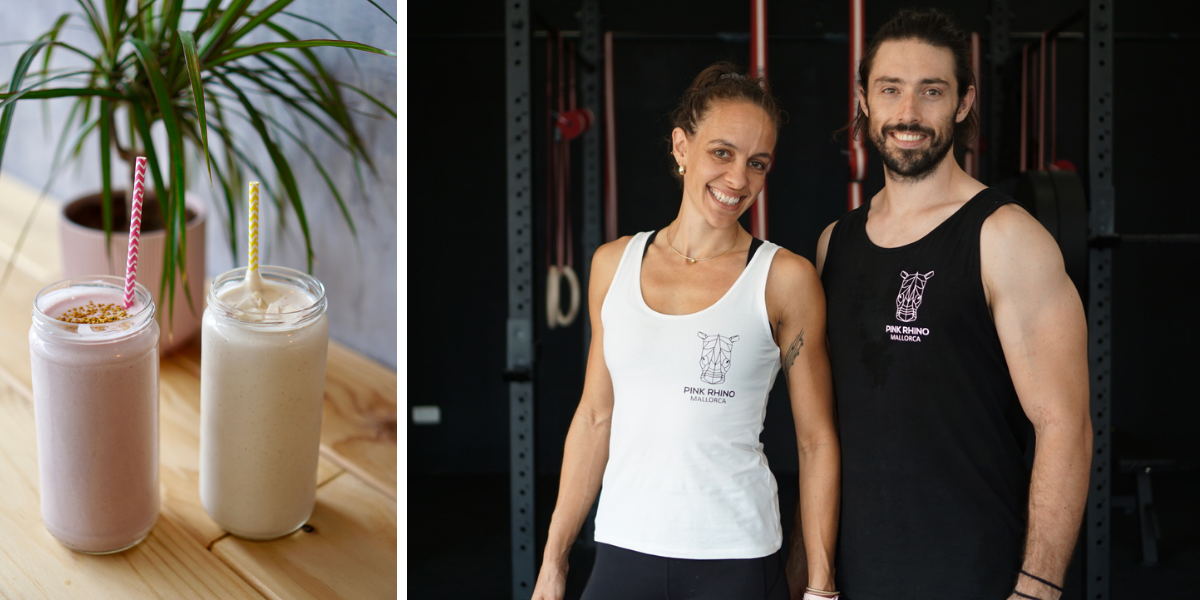 Take the Next Step Towards your Fitness Goals
If you've been contemplating switching up your fitness routine, Juju and Rob invite you to pop in for an obligation-free chat. If you fancy giving a class a go, your first trial session will be free of charge.
Until the end of May, Pink Rhino is running a summer special. Sign up for 3-months Unlimited Membership for the price of the Essential Membership (a saving of 90€).
Bonus: Quote "Nourish" to receive a complimentary pre-workout coffee and post-workout smoothie at your first class or personal training session!