Tell us a little bit about your work?
I am an online health & fitness coach based in Mallorca. I coach women all over the world, helping them become the healthiest, fittest & happiest version of themselves, both physically & mentally. I offer fitness & nutrition coaching that is enjoyable & sustainable for all lifestyles, connecting with clients via my fitness app that is downloadable from app stores. I also specialise in pre/postnatal fitness & nutrition for expecting mums & new mums.
Certified health & fitness coach
Nutrition coach
Life coach
Pre/postnatal coach
I like to combine these skills to bring a completely unique service to my clients.
What did you have for breakfast today?
For breakfast I had a protein & mixed frozen berry smoothie with oat milk and a toasted seeded bagel with peanut butter (this is easy for me to eat whilst breastfeeding).
What does your morning routine look like?
Mornings are very interesting right now with a newborn baby and 2 older children! But I always prioritise time for myself to start the day because it's super important for me to be aligned and positive before my family rise. I get up, make a glass of lemon water, sit out on the balcony to drink it and spend 5 minutes speaking my morning affirmations & reminding myself of my blessings and health. I wake the older children, and as they get prepared for school I use this time to breastfeed Gia (my newborn) and get her ready and in the carrier for the school run. I walk the children to school, then myself and Gia head to the beach for our morning movement, not before picking up a takeaway coffee on the way (newborn sleep deprivation!). I usually complete between 8-10 thousand steps at the beach and Gia loves the natural white noise of the sea. We head home before the sun gets hot and I get the laptop out ready to connect with my online clients.
My typical morning affirmations:
I am happy
I am healthy
I am wealthy
I am positive
I am blessed
I am grateful
I am capable of anything today may bring my way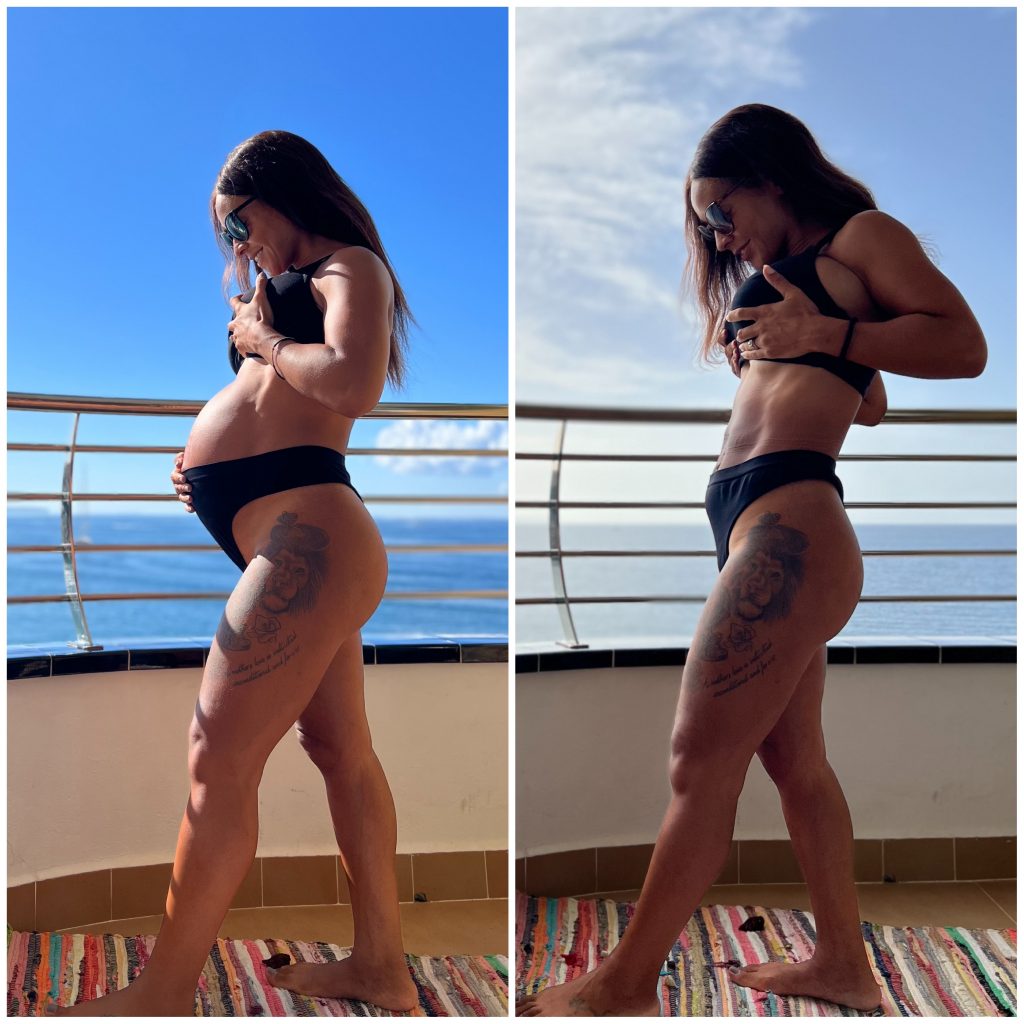 What is your number one health habit?
Just one would have to be, starting every morning with a positive mindset because this is key to having a good day!
What is your guilty pleasure?
Almond croissants from Palma Bread. I was hoping my craving would end after pregnancy but here we are, still craving them haha!
What's one book or podcast you'd recommend everyone read/listen to?
If pregnant "Hypnobirthing: Practical Ways to Make Your Birth Better" – by Siobhan Miller (founder of The Positive Birth Company). If not, "The Power" – by Rhonda Byrne – a self help & spiritual book that will completely transform your mindset.
In Mallorca, where is your favourite place to:
De-stress: in the gym or exercising
Move: At the beach
Shop: I do enjoy FAN especially now with their changing & nursing facilities for the baby! I am also partial to a Primark & Starbucks visit when I go
Dine: AHIMSA plant based food & café – Cala Major
Stay: At my seafront apartment which I count my blessings each day for waking up here!
Instagram:
@savannahspencerfitness 
@savannahspencerfitpregnancy 
Web:
www.savannahspencerfitness.co.uk