Spring is the perfect time of year to reset and prepare for the busy summer months ahead, and what better way to do that than by taking some 'me time' and treating yourself to a wonderfully restorative retreat?
The aptly named 'Spring Awakening' yoga retreat will help you de-stress, refocus, and harmonise the body and mind. From 15-19 April 2020 yoga teacher Katharina Pass will guide you through 5 amazing days of getting back to your roots while embracing new beginnings. By focusing your energy inwards, you can decide: who would I like to be? What makes me happy? What do I want to let go of? All while practicing love, acceptance and appreciation for yourself.
"These days we are so driven by our mind, rushing through the day, trying to fit in everything we can to be accepted, to be 'good enough', and fulfilling the expectations of others and ourselves. We try so hard to find what we are missing- to be happier, to be healthy, or to be finally accepted, but the truth is we have to take a look inside. We have to come out of our head and into our heart space." – Katharina
The Teacher – Katharina Pass
Katharina was born and raised in Germany, and now resides in Mallorca where she is living her dream life. With a background in ballet, Pilates and yoga, and as a fully qualified personal trainer and holistic health coach Katharina knows how to gently guide you to find balance during the 5-day retreat.
In her work as a yoga teacher, she creates balance on a physical and emotional level and helps with pain relief and other restrictions with targeted postures and breathing techniques.
"Through gentle postures, flowing sequences, breathing and meditative techniques, I guide my students into the practice of yoga. I understand yoga as something that goes beyond physical exercise – although it does great things for physical health, for me, yoga means helping people to discover their inner strength and following their intuition."
Examples of Katharina's background and training include:
200 h multi style yoga teacher Yoga Alliance USA & Yoga Alliance Professionals UK
Vinyasa Yoga Flow and Intensive Yoga Teacher
Founder of P.A.L.M.A. Yoga Flow
Personal trainer & health coach
Mobility coach
Nutritionist
Workshops & retreats in Germany and Mallorca
Feng Shui and Kinesiology
Founder of Yogalifemallorca and Co-founder of fit-perform
The Retreat
Over the course of the five days you will be led through morning and evening yoga practice, and different meditation and breathing techniques to strengthen, balance and calm the body, mind and heart. You will spend time daily journaling, utilising positive affirmations, manifestation, and practicing gratitude, to re-program your system and manifest your visions and dreams.
Also included in the package is:
5 days/4 nights in a private room with balcony
Rich breakfast buffet daily
One 3-course-dinner-menu at NENI Restaurant
One 45-minute spa treatment at Santa Verde Spa
Alcohol-free welcome drink
Mineral water for the sessions
Usage of bikes and SUP boards (upon availability)
Use of Mercedes cars for test drives
Goodie bag
There will be enough free time every day between the sessions to simply just relax, take a nap, swim in the pool, go for a walk or read a book. The goal is to create a truly nourishing holistic wellbeing experience.
Daily Schedule Example:
8:00h Silent morning walk
8:30h Morning Yoga practice (energising)
9:45h Journaling/affirmations
10:00h Breakfast buffet
11-16h Free time
16:00/16:30h Yoga and meditation (slower practice)
17:30/18h Dinner/free time
"Yoga retreats are a great way to start or deepen your yoga practice. You will learn how to integrate yoga and meditation into your day to day life, recharge your batteries, connect with your body, mind & heart and really have the time to enjoy some days off – just for yourself." – Katharina
The Location – a Yogis Paradise
Bikini Island and Mountain Hotel in Soller is the picturesque setting for the retreat. Nestled between the sea, orange, lemon and olive groves, and the majestic Tramuntana mountains you will feel a world away from any stressors, and ready to relax and recharge. This Bohemian, adults only hotel is equipped with all you can possibly need to unwind, and the onsite Neni restaurant will tantalise your taste buds with Israeli-Mediterranean dishes. Vegetarians and vegans are also well catered for.
With a fully equipped fitness area, yoga room, and spa featuring certified natural products, you can really dedicate this time to giving your body the love and attention it deserves.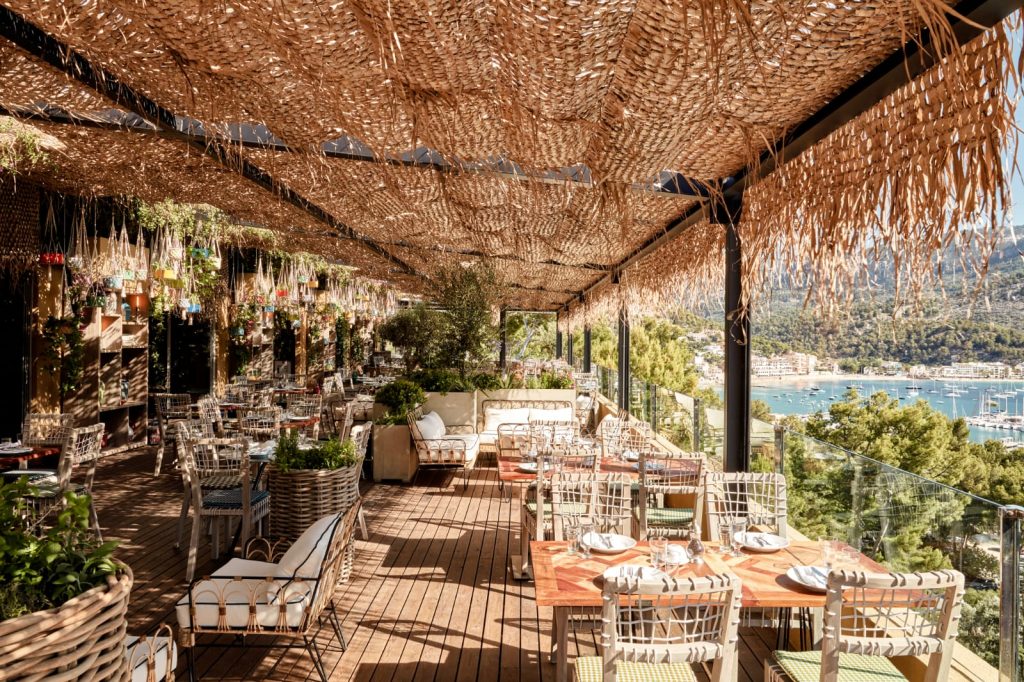 Bookings can be made directly through Bikini Island and Mountain Hotel:
Room – Single Use: 1.158€
Room – Double Use: 865€
Room – Double Use (One Guest Without Yoga Classes): €540
 Spaces are limited. Book early to avoid disappointment HERE
 Katharina Pass: info@fit-perform.com