411 km – 4 Horses – 1 Goal
To raise money for the Allen Graham Charity 4 Kidz, the team from Naturacavall Stables in Manacor will complete their first ever 3-week expedition ride around the whole coast of Mallorca. Specially selected guest riders will join them en route for this epic and ambitious adventure. The expedition will be led by Naturacavall's cowboys and aims to raise 10,000€ for the island's disadvantaged children who are coming of age and are expected to look after themselves in society.
The Allen Graham Charity 4 Kidz
The Allen Graham Charity 4 Kidz provides homes and life skills for children that have been in care for most of their lives and have nowhere to go once they turn 18. Founded in 1992, over the last 28 years the charity has helped hundreds of children. One of the founders, Rosemary Stone says, "Financial support is crucial now more than ever, to help these young adults in these very uncertain times. Ride to Rescue could be a real lifeline for us. Peoples donations will mean the difference between a potential tragedy or a much-welcomed success story."
The Expedition
The inspiration for Ride to Rescue came about during the first weeks of lockdown. After hearing about the charity struggling to support the children, Naturacavall's cowboys, Joan, Xavier and Lizzie, decided to take action and the idea for the expedition was born. Recognised for their natural ability with horses, unique riding style and flair in bringing people together, the team is raring to get going and will announce the departure date once the government guidelines allow them to leave.
"We plan to travel simply with only the absolute basics, eating only locally produced food and being aware of the environment at all times. We will ride early in the morning and late in the afternoon, making sure we rest in the heat of the day with the horses.
Our aim is to spread lots of happiness and goodwill along the way, reminding us all what really matters in life. This project has given us all a sense of purpose and motivation. This is a wonderful moment to celebrate life, community, family and friendship. To look at the world with fresh eyes, to notice the small things we may have taken for granted in the past. Mallorca is a fertile land, maybe, just maybe in this new world after lockdown, some of us will consider going back to the land, living a simple life having had plenty of time to consider our lives and gain perspective."
Your donation, no matter how small, will help them achieve their goal. Please donate by clicking here, everything helps.
Additional ways you can offer support is through:
Food – keeping the team fed and watered each day
Safe havens – enclosed pastures or somewhere we can set up our portable fences to allow the horses to rest
Accommodation or campsites

About Naturacavall
Naturacavall Stables specialise in rescuing horses in vulnerable situations. Their aim is to give them a fresh start, making sure they receive a balanced diet, health care and plenty of wide-open fields to graze and play in with other horses. They have a maximum of 20 horses and practice non-violent natural horsemanship to reset and train the horses for excursions, training and equine therapy. The stables are home to a colourful mix of horses all rescued from vulnerable situations and given a fresh start in life. Among them include:
Volcán- Lived the first 10 years of his life alone in a tiny space. He was a bag of bones with ticks and worms.
Calcetines- Trained to be a rodeo champion, they hurt him so badly with the spurs to make him a top winner that he broke down.
Tacha- Trained and bred to be a trotting racehorse, but her legs were slightly deformed, so she was disqualified.
El Indio- Because of his strong rebellious character he has been passed from home to home, as nobody could handle him.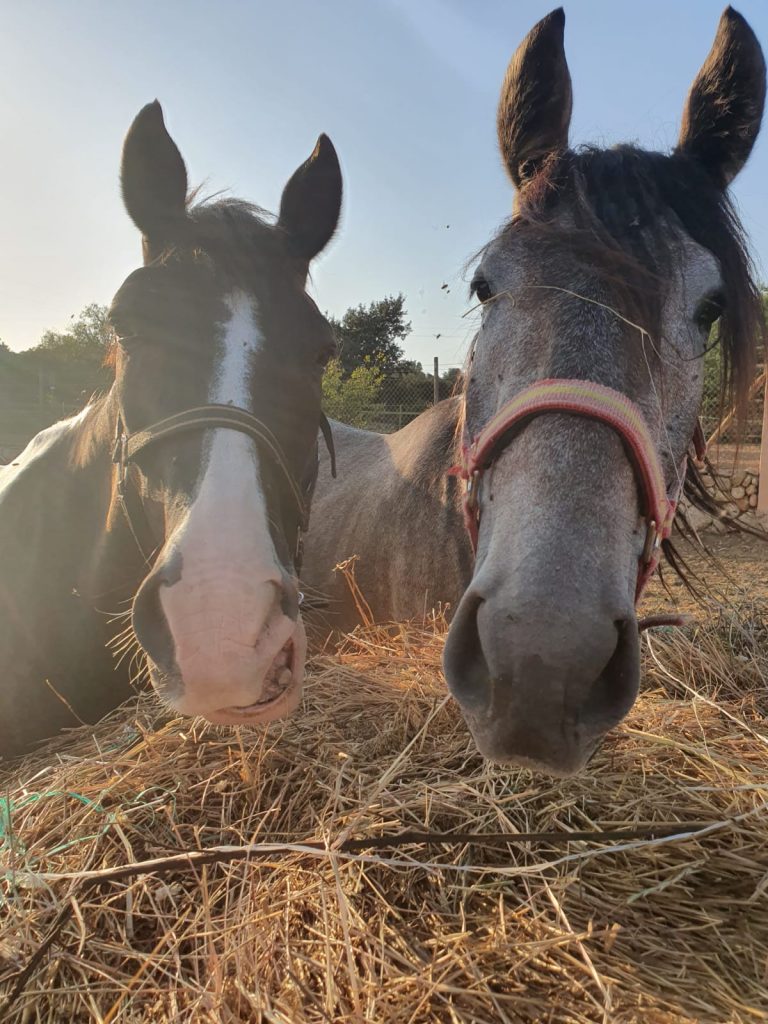 The Naturacavall Team
Joan Ferrer grew up in Manacor and as a young boy his grandfather would take him out into the countryside on a donkey. By the age of 12 he was skipping school and working at the racetrack. Always ambitious he married young and bought his first horse at the age of 21. He kept his horses at his family's farmhouse, taught himself to ride, and reset ex races horses which were going cheap. He worked hard to make a life for his young family, setting up a textile business in Manacor and spending his free time with his sons, nephew and the horses. They explored the Island on horseback together, sleeping out in the wild and making quite an impression wherever they went. Joan is larger than life, his enthusiasm for life is infectious – everything he has he shares. He set up Naturacavall with his youngest son Xavier, and they are living out the dream taking people on wild adventures all over the island.
Xavier Ferrer grew up on the island surrounded by horses, tractors, chickens, sheepdogs and most importantly a loving supportive family. He is an absolute natural with the horses, a gentle character with the strength and honesty of a leader. After studying agricultural engineering in Barcelona, he went on to do a stint out in Zimbabwe as a volunteer. Whilst away he looked back on those childhood adventures and came up with the idea of turning his true passion into a business – adventure on horseback. Together with Joan (Xavier's father) he launched Naturacavall in the spring of 2019. So far, the adventures have been incredible. People from all over the world have ridden with Naturacavall. The horses are well cared for and loved, life at the stables is never boring!
Lizzie Graham was born in the UK and set off traveling around the world at the at the age of 16, volunteering for various charities in North Africa and Eastern Europe. She met a Mallorquín 20 years ago on her travels and moved to Mallorca to his family home where they lived off grid and had three sons. She became completely emerged in Mallorcan culture and was contracted to write a book about the Balearic Islands for "Wild Things Publishers". One day she met Joan and Xavi at a photo session on the beach, and they agreed to take her out into the wilds of Mallorca on horseback for her book research. The experience changed her life, the beautiful rescue horses and wild adventures were incredible and the three have worked together since then as a team creating unique adventures for small groups. (The book Wild Balearic Guide is out in 2021).
If you would like to help with the Ride to Rescue, please email ridetorescue2020@gmail.com or call Lizzie on +34 617107532. Follow their progress on Instagram or Facebook. Show your support and tag them in your social media posts using #r2rmallorca2020