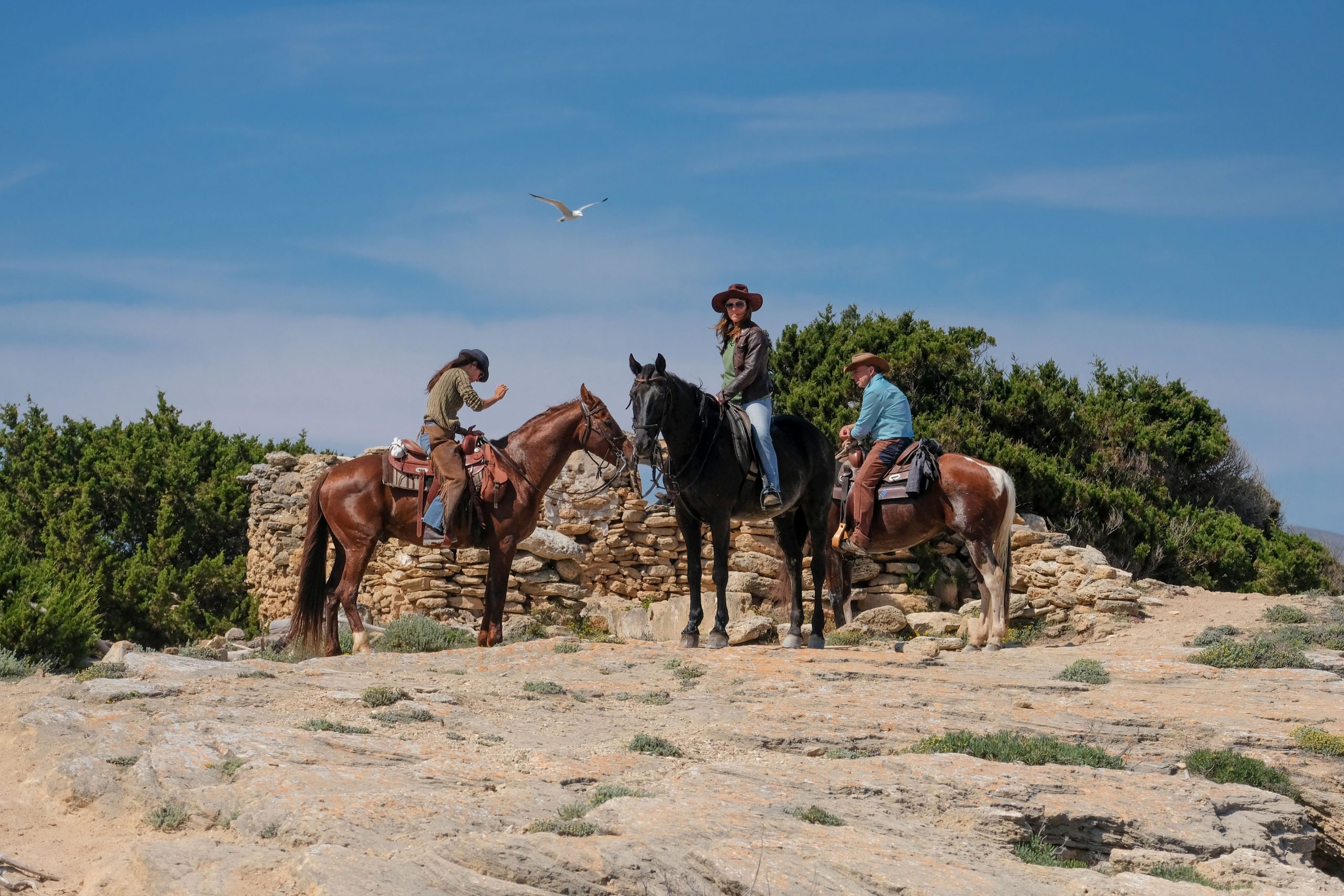 On a crisp and sunny Friday morning in early December my good friend Mara and I set off to Manacor to visit Naturacavall, the home of 15 horses and the base camp for Naturacavall horse riding experiences. I had heard great things as apparently this was not your average horsey excursion company, and Mara and I fancied a bit of outdoor adventure away from our usual Palma city surroundings.
Into the countryside
Approaching our destination by way of a dusty dirt road and GPS, we started to wonder if were actually in the right place, until from around the bend appeared a man on a rather large horse, looking like something out of a western movie. He galloped towards us, ground to a halt, and beckoned for us to follow him. This rugged Spanish man was Joan, senior member of the Naturacavall family. Guiding us to the stables area to park, we carefully manoeuvre around a brood of chickens, multiple frisky sheepdogs, and horses of varying colours and sizes. We were definitely a world away from Palma!
The Naturacavall family
There to greet us with a warm smile and infectious enthusiasm was Lizzie, passionate horse lover, and self-called Naturacavall 'apprentice'. She's bubbling over to tell us about the place and the motivation behind Naturacavall. Set up just 7 months ago by Xavi (son of Joan), at their family property, the idea was to create horse-riding experiences that were unique and not straight out of the box, much akin to their family of horses which all have different characters and backgrounds. "These aren't automatic horses" Lizzie explains. "They haven't lost their spirit". She tells us how some are ex racehorses who were destined for the dog food factory that need to be retrained to understand they no longer have to trot, and are now free to move naturally. Others have been adopted from nearby properties. They are loved and cared for, and given the space and freedom to enjoy their new phase of life. Each horse has a unique story, just like us, which is why the team will spend 10 to 15 minutes just matching you to the horse that will suit you best. Similarly, the dynamic of a group of riders is assessed, and horses and riders are combined accordingly.

A truly authentic experience
Exploring the most unspoiled areas of Mallorca from a different vantage point – by horseback, is the premise behind Naturacavall, and something Xavi and the team want to share with those of us craving a more intrepid island adventure. From short rides of a couple of hours, to overnight excursions, and full multiple night expeditions, there is an experience for all abilities and levels of thrill seeker. Traverse the mountainside, swim in the Mediterranean Sea on horseback, or stay overnight in the countryside warming yourself by a firepit then falling asleep in a tepee or under the stars beside your horse. For the more advanced rider, expeditions can range from 2 to 7 nights, dining at local restaurants in the evenings and staying at hostels along the way. Every step is pre-planned by Naturacavall allowing you to simply connect with your horse, get back to nature, and enjoy the experience.
Additionally, if you're a local on the island then you can become a regular member of Naturacavall. Train with them during the week from Monday to Thursday, round up cattle and play other games with Joan to gain your confidence on a horse while having fun! This is a great introduction to build you up to a level suitable to tackle the longer expeditions.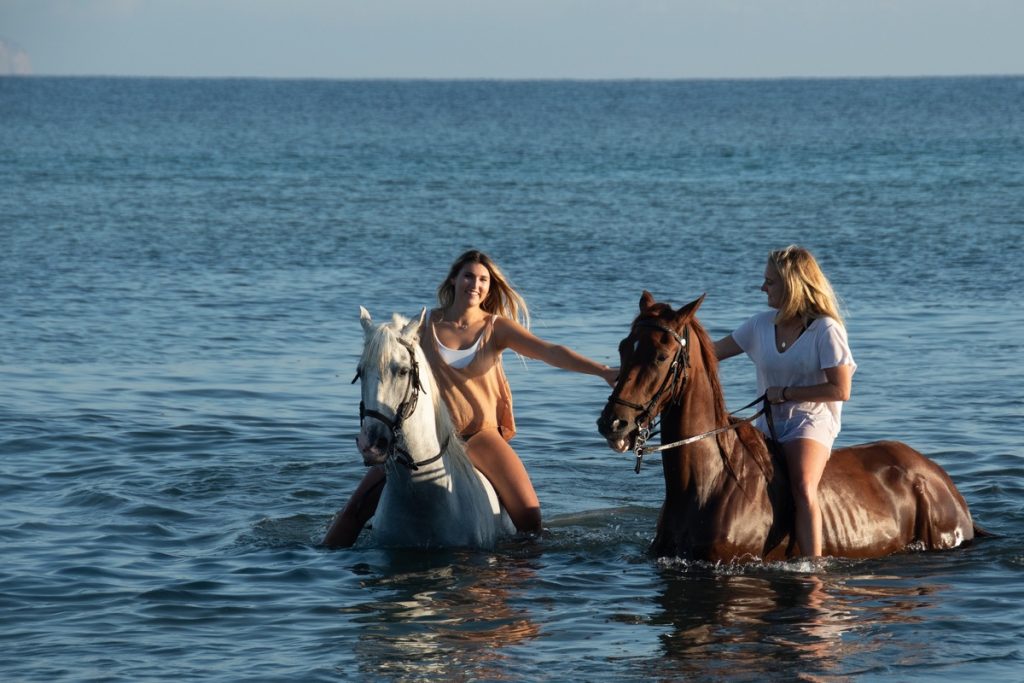 Our own little adventure
Today Mara and I (as extreme beginners) are to be led on a ride around the Sa Cova countryside. Mara chose her horse opting for the smaller guy and leaving me with the much larger granddaddy of the group named Johnny. His sheer size meant my attempt to mount him was decidedly ungraceful, but Xavi was there to boost me up until I was comfortably positioned. We ran through the basics – where to slot your feet in the stirrups, how to hold the reins, steer, stop, and generally avoid getting into any bother.
As we set off as a group of 6, I find myself immediately grinning like an idiot. I must've been about ten years old the last time I was atop a horse, and the feeling of being on such a majestic creature is quite remarkable. I can't help but stroke Johnny's neck every few minutes – he's so beautiful!
The group of horses trek along together, and it's obvious there's a hierarchy. Lizzie's horse clearly likes to lead, Mara's protests when the others are too close by way of breaking into a trot, and my horse Johnny is seemingly unphased by much. Lizzie's 12-year-old son Danny is an avid equestrian in the making, coming up the rear on a smaller and far more energetic steed, skilfully and calmly keeping him under control. Throughout our ride Danny stays close behind to answer my questions and help me with my riding technique. His passion for the horse lifestyle is fantastic to see, and apparently he even joins in on the longer excursions, getting a permission slip to have time off school (provided all homework is kept up with of course!).
As we saunter along the dirt track, I take a moment to myself to breathe it all in. As we pass by olive trees, paddocks, rustic stone fincas and through overgrown gorges, I almost need to pinch myself. Spending most of my time in Palma's hustle and bustle I sometimes forget the raw beauty this island has to offer. And being reminded of this whilst on the back of a horse is a real treat for the senses.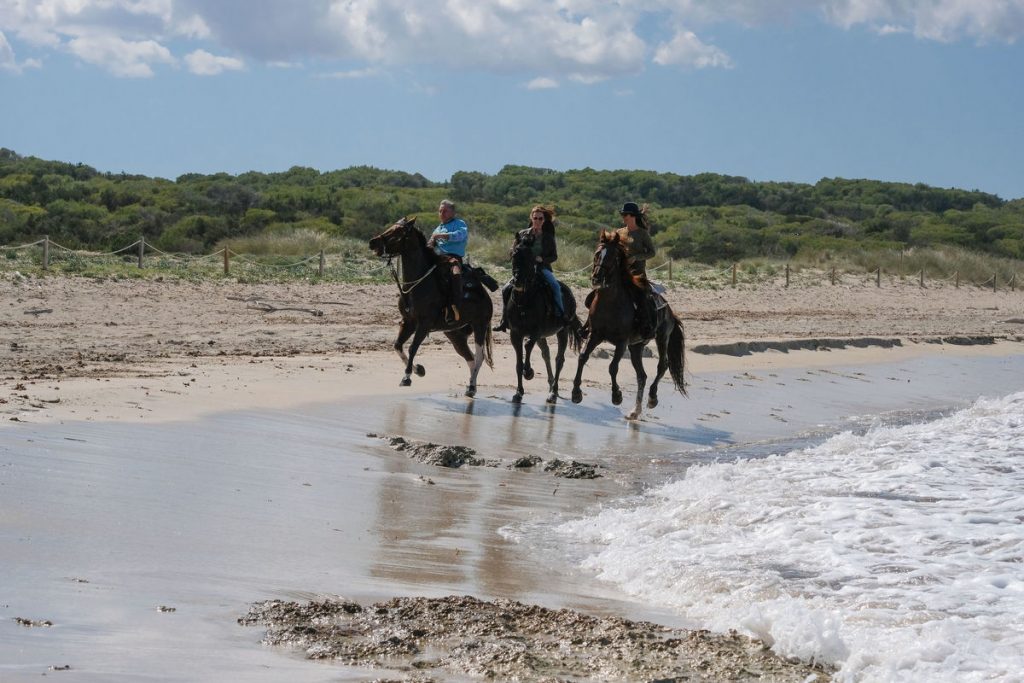 Rounding off the day
After a couple of hours of riding we circle back to the stables where Joan is busy giving one of the horses a wash down. Lizzie takes care of all the tack and paraphernalia while Mara and I admire the horses in the stables. Xavi comes around with some hay for feeding and tells us that carob is also a firm favourite, pointing to the carob tree on the property.
Once all the hard work is complete, we head out to the back of the stables where a big rustic farmhouse table makes the perfect spot to wind down and have a beer and chat. Candid photos of Xavi in very impressive poses on top of very fast-moving horses adorn the wall, showing the love for all things horse related is innate and in his veins. After our taster of what Naturacavall is all about, Lizzie animatedly describes all of the other different types of experiences they offer, and even more amazing excursion ideas that are in the pipeline.
Now that the sun has dropped in the sky, Mara and I reluctantly leave (but not until plenty of pictures are taken!). We have suitably achy muscles, rosy cheeks, and smiles firmly in place as we wave goodbye to new friends and the horsey haven that is Naturacavall.
Quote 'Nourish' to receive a 20% discount on your first Naturacavall experience
Naturacavall
Quadra Sa Cova ubicada en Manacor, Mallorca
www.naturacavall.com
info@naturacavall.com
WhatsApp: +34 617 107 532
Facebook: https://www.facebook.com/naturacavall
Instagram: @naturacavall