When we think of Mallorca it's often the images of white sand beaches and crystal-clear coastline that first spring to mind. However, venture inland and there's so much more beauty to uncover as Brenda Ooteman and her husband Roland Verbeek found out entirely by accident back in 2006. As sailors, they loved to explore the bays and playas of the Balearics, but it wasn't until they were docked in Palma for a particularly long stint that they travelled inland and found themselves on an amazing plot of land near the small medieval town of Montuiri. Positioned atop a hill with the most spectacular expansive views across the countryside, they instantly recognised it was a real gem.
Deciding this was the ideal location for their second family home (Amsterdam being the first), construction soon began, and after overcoming many hurdles during the building process, Osa Major was finally completed in 2011. Brenda recalls that although they originally set out to create their dream holiday home, always in the back of her mind was the idea that the magical location could eventually serve as the perfect retreat setting for larger groups. After her experience in running a yoga studio in Holland for many years, she envisaged her students travelling to Osa Major for restorative yoga retreats and an authentic Mallorcan countryside experience.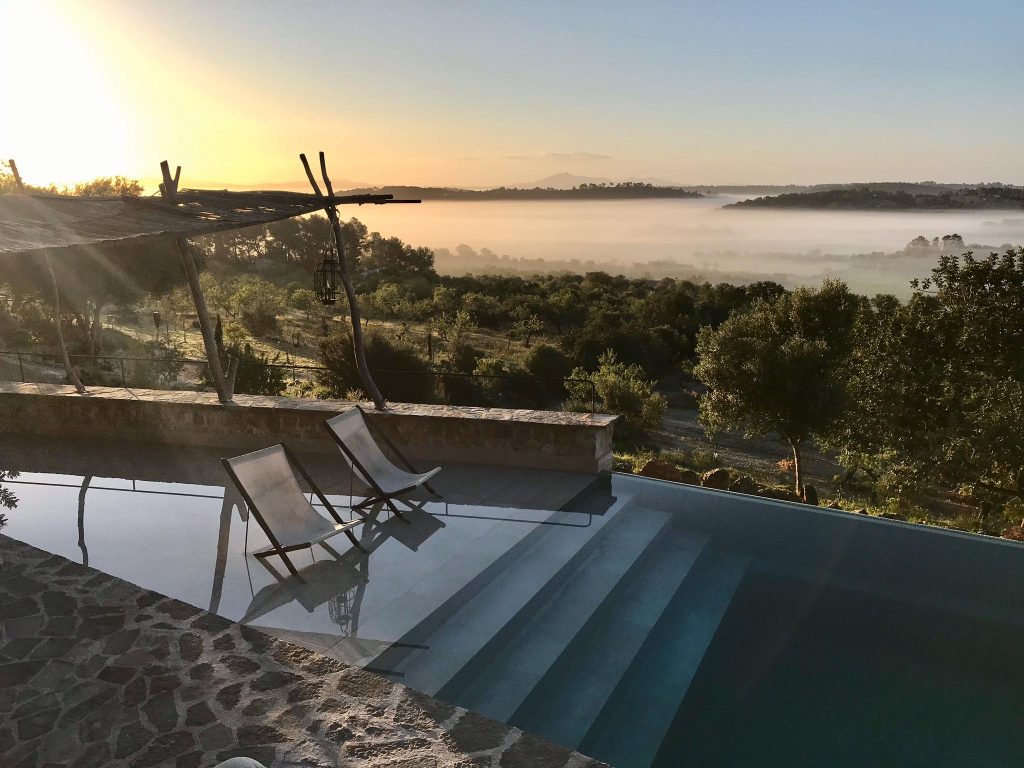 Style, Comfort & Serenity
Perfectly kitted out for a luxury wellbeing escape, yet still maintaining a laid-back lifestyle feel, Osa Major is a blend of Balinese, African, and Mediterranean style with modern twists such as the statement black staircase. Brenda has decorated the finca herself, weaving together simple, earthy elements to seamlessly blend into the surrounding nature.
"Osa Major is basically my vision board come to life. It's not necessary to search for things that match or belong together, it's about things with a heart, that had a life before. In the end, it all fits harmoniously".
Natural materials and colours, shells, stones, and the gorgeous Moroccan style Tadelakt walls all contribute to an inside-outside feel, reminiscent of Brenda's childhood playing in nature in Africa. The finca has also been set up to be completely self-sustainable, off-grid with its own solar panels providing energy to the whole venue. Water is sourced partly from their own water reservoir, and partly ayuntamiento.

A Venue to Hold your Retreat or Workshop  
Osa Major is a dedicated location with a strong purpose: to provide a place in which to practice balanced and healthy living in all areas of our life. If you are a yoga teacher, chef, musician or wellbeing practitioner, Brenda welcomes you to hold your retreat or event at Osa Major. The space can work around your needs, whether that be simply renting the yoga shala for a day or holding a longer overnight or weekend retreat utilising their 15 beds inside, the 3 glamping tepees perched on the hill and the Safarylodge.
Perfectly equipped for groups, the outdoor yoga shala provides the ideal setting to practice asanas and meditate, while downtime can be spent luxuriating in the infinity pool or catching some rays on the sunbeds. With its own vege garden and orchard, large covered terrace, dining area and outdoor kitchen, Osa Major is a picturesque site for hosting cooking and Ayurvedic workshops, which can be combined with stunning nature walks, and foraging for herbs.
Brenda will be happy to assist you with any extra requirements you have for your retreat, whether that be catering or an onsite chef, or arranging for the local plant expert to come and lead a demonstration on how local herbs and foliage can be used for medicines, and making oils, essences and infusions.
All necessary precautions for hygiene and distance will be ensured for any groups coming to Osa Major, in fact the remote location and vast space beautifully cater to distancing without ever leaving you feeling isolated or lost.

A Family Weekend Away
If you're perhaps looking for a weekend escape to the countryside, Osa Major is also happy to welcome you for some rest and relaxation with family or friends. Children will especially love sleeping in the tepees onsite, while the adults will feel the tension melting away as they enjoy the tranquillity and peacefulness which abounds the finca and its surrounds.
If desired, a room can be booked at Osa Major for 1 or 2 nights (or longer) to create your own mini-retreat.
To find out more about upcoming retreats, or to make a booking please contact:
OSA MAJOR
brendaooteman@mac.com
+31620595321
www.osamajor.com