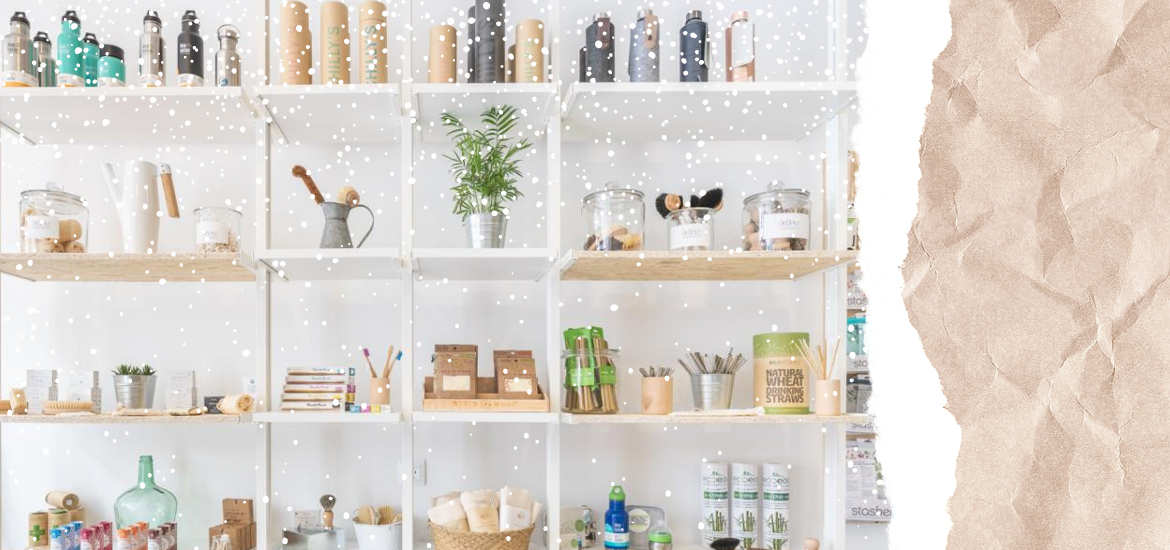 Can we say it? The C-word?! Christmas, yes Christmas is slowly creeping closer as we move towards the end of this crazy year. Although this is traditionally a happy time, there can also be feelings of anxiety for many going into this season. It has become a time of year associated with excess. From food to toys and presents, we are bombarded with images of huge trees, laden tables and laughing families. This creates an expectation which can become difficult to live up to.
A 2018 google survey revealed that 65% of people found Christmas at home stressful, with money worries being the top cause.
With many people in uncertain financial situations and travel restricted to and from the island, this Christmas could potentially be quite a daunting prospect for many. Overspending at this time of year not only affects your finances it also leads to overconsumption, waste and a HUGE amount of stress both on people and the planet.
2020 has been very different for everyone, and instead of trying to fight it, now can be a great time to reassess what is important over the Christmas period and make some changes for the better.
GET ORGANISED
Take the time over the next few weeks to really plan and think about the people you would like to give gifts to. By getting organised it gives you the opportunity to shop more locally, source things in different ways and not panic buy. It is also a great time to really talk to your children about their expectations around Christmas – instead of encouraging them to write a long list to Santa ask them to think long and hard about what it is they really would really like and value.
As a general rule we all need to buy less. Overconsumption is killing our planet and reassessing what we 'need' is a key element of living more sustainably in general. Managing expectations and communicating with family and friends about what you want can really help reduce stress and unnecessary spending.
With children a popular trend over recent years has been the '4-Gift Rule' Where you buy them 4 main presents :
Something they WANT, Something they NEED, Something to WEAR and Something to READ – this can be a great guideline to use to try not to over buy.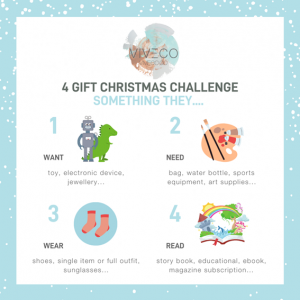 We have teamed up with Nourish the Guide to give you some ideas on different ways to approach Christmas this year and showcase local businesses offering everything from handmade products to unique experiences and make it easier to shop more locally and sustainably this year.
BUY SECOND HAND
Often children (and adults) want a specific branded item – Lego, Hot Wheels, Airpods etc. and chances are you have been hearing about them for a while. Instead of heading straight to Amazon to buy these items new, start looking around locally. Ask friends if their kids have grown out of things or want to sell on. My first stop now for adults and children is Facebook Marketplace where you can search specifically for the items you are looking for. (Last year I bought my son a Hot Wheels garage with cars for less than 1/3 of what is would have cost new – and it was already assembled!). Often posted are items people receive as 'doubles' so they are still in the original boxes. There are also more specific Facebook sites for smaller children like Chocolate Crocodile. Check out these shops online and in Palma for Preloved Presents:
• HALO PRELOVED High quality Childrens clothes
• CASINUEVO BEBE – Children and Baby's , Clothing , Furniture and Accessories
• SERIE B – Vintage and Retro items
GIVE EXPERIENCES
Rather than buying your loved ones a traditional present think about gifting an experience. I love this idea for many reasons; in our hectic lifestyles we are all rushing around, and this is almost like giving the gift of 'time'. They get to experience something new, step outside of their comfort zone and create memories. For children if there is something that they want to do but it is out of reach at the moment (dancing, riding, yoga), you can ask friends/family to contribute to lessons for a term. There are so many amazing, innovative and exciting options here on the island, you are not only gifting someone a really thoughtful present you are all directly contributing to our island's small businesses and economy – so for me there are only positives to this option!
• Bonnie Lass Charter Boat from Port Soller
• Perfume Making Workshop with Trudi from Gaia Naturals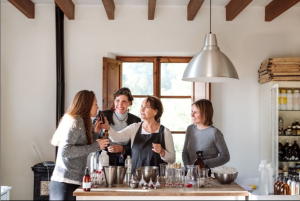 For more inspiration check out some of Nourish the Guide's list of businesses offering something different this year here (some with discounts!) – From Retreats and Therapies to Experiences and Workshops they have you covered.
SHOP LOCAL
Step away from your computer (unless it is to search out hidden gems on google maps!). Shopping online on Amazon is easy and sometimes necessary where time or accessibility is an issue. But where possible I cannot encourage you enough to shop locally. Once you start looking you can find shops on our little island stocking nearly everything. From random finds down back alleys (in Pollenca there is a Tabac filled to the brim with beautiful toys, stationary and quirky metal and wooden stocking fillers) to more specialised toy, gadget and book shops there is very little you cannot find with enough time and persistence. Talk to neighbours and friends and find some new places to support this year, you often find that in smaller shops they are more able to offer you personalised service and extras.
• COME IN BOOK or UNIVERSAL BOOKSHOP PORTALS – Both have amazing selection of English Books and can order specific titles
• ANTIC MALLORCA
If its tasty Local treats or gorgeous hand made products you are looking for have a look at this list of Nourishing items!
PURCHASE WITH A PURPOSE
The world is full of innovative and talented people and companies and 'purchasing with a purpose' is a great way to support people both locally and globally. Instead of just buying an item, first see if you can find a brand that is supporting worthwhile projects with a donation of their profits, or a charity where the money goes directly to the makers. Some good certifications to look out for are Fairtrade (where each part of the production is paid fairly) and B-Corp businesses (where businesses are legally held accountable and balance profit and purpose).
Some examples on the island you can directly help amazing, fun organisations like
• Cleanwave – Buy their bottles to support their work
• Save the Med Gift – Buy a Shampoo Bar from Gaia and profits go to their projects
• Khamir Craft Recycled Bags from Viveco made from Recycled plastic purchased directly from the weavers.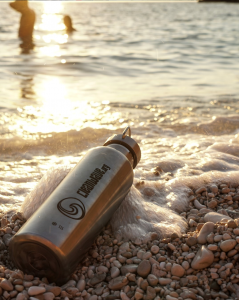 KEEP IT SIMPLE
When looking at everything else Christmas related from decorating to wrapping, keeping it natural and simple is the key. Most people have a store of decorations that are reused each year, and this is fantastic, but if you want to add to your collection try and keep it as natural as possible. Buy items made from wood or glass, head outside to look for inspiration in nature – If you are not crafty there are lots of natural options available locally
• Buy a handmade natural Wreath from Lara Van Rhede Flowers
• Or check out the luxurious range at MR JIMMY HOME in Santa Maria with tree decorations made from empty oyster shells with added gold!
Remember that any wrapping paper that has a slight shine on it is NON-RECYCLABLE. Instead look for rolls of Kraft or recycled natural paper and personalise it by getting the kids to draw on it, find a favourite Christmas stamper, or simply finish with twine and sprigs of branches – all create a stylish and sustainable option. Want to take it one step further? Check out the traditional Japanese art of Furoshiki– wrapping presents in fabric, an amazing way to add a little extra touch to a special present and use up any odds and ends of fabric from around the house.
If you are really stuck for a present idea or want to gift someone who "doesn't want anything" try creating something homemade. These gifts are always appreciated and a great activity for the family to do together. Check out some ideas in the mymuybueno Cookbook,  perfect a Christmas biscuit recipe or dive in and make a cake or body scrub.
Small acts of kindness will be remembered long after they have been eaten or used.
Remember that having a more sustainable Christmas is not about removing the 'things that make Christmas fun', it is about replacing overspending, overconsumption, waste and stress with happiness, relaxation and care. For me it is about replacing the unnecessary things that bring us temporary pleasure with memories that actually bring us joy and last. Let's make the whole experience less stressful and reduce the negative impact of this celebrated day on our planet.
If this year has taught us anything, it is that the things that really matter – do not cost the earth.